Profile

Free Account
Created on 2009-05-22 09:18:50 (#380035), last updated 2009-06-28 (429 weeks ago)
9 comments received, 34 comments posted
6 Journal Entries, 5 Tags, 0 Memories, 5 Icons

About

Mini Bio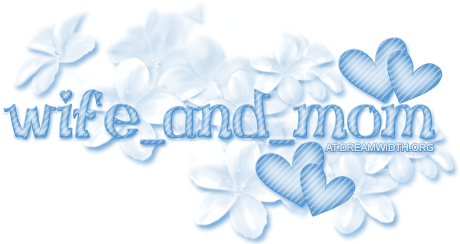 T H E J O U R N A L
My journal is currently access only.
I'll add just about anyone. I just like to know who is reading my journal.
I love meeting new people so don't hesitate to comment if you think we have something in common.
I hope to meet some new friends on this website.
JOURNAL LAYOUT BY BOO AT MINTYAPPLE




•T H E W I F E A N D M O M•
Married to David;mommy of two;Kentucky girl;loves pink;hates dresses;;loves being a mommy and wife;Danny Gokey fan;loves nail polish & makeup;loves being outdoors;likes organization;the list goes on.

Basically, I'm just an ordinary woman in love with her family with the same hopes, dreams and fears as anyone else. I love being me and I'm happy with the choices I've made throughout my life. I try not to judge other people and can only hope to receive the same treatment in return. I love asking questions whether I get answers to them or not. The only way to learn something is to be interested enough to research about it. I can be very opinionated and talkative if it's a subject I have strong beliefs about. As you can see, I have a tendency to ramble on about things which will lead to some boring entries in my journal. In case it isn't obvious, I'm a HUGE Danny Gokey fan and I enjoy making graphics!

•L I K E S & D I S L I K E S•
♥I Like♥ Storms, cuddling, snow, rain, family, friends, marriage, motherhood, being outdoors, warm socks, slippers, flip flops, nail polish, making graphics, animals, meeting new people, friendship, wildlife, zoos, road trips, love, affection, etc.

♥I Dislike♥ Snakes, spiders, complete silence, complete darkness, hypocrites, liars, cheaters, racism, stereotypes, idiots, animal cruelty, child abuse, divorce, pms, hang nails, doctors, telemarketers, gas prices being so damn expensive, etc.

MY GRAPHICS COMMUNITY: dreamy_designs
Any questions or concerns relating to graphics should be asked there or in an email/private message to me.

Connect
american idol
,
animals
,
animation shop
,
bath & body works
,
cigarettes
,
coffee
,
cuddling
,
dancing with the stars
,
danny gokey
,
daughtry
,
family
,
graphics
,
heather graham
,
hinder
,
house
,
icons
,
kids
,
love
,
made
,
makeup
,
music
,
nail polish
,
nickelback
,
paint shop pro
,
pepsi
,
photoshop
,
so you think you can dance
,
stephen king
,
supernatural
,
tech n9ne
,
zug izland

People
[View Entries]

Communities
[View entries]

Member Of (13):
computer_help
,
danny_gokey
,
dreamwidthlayouts
,
dreamy_designs
,
envied
,
graphic_tutorials
,
graphixbylisa
,
house_cuddy
,
photoshop
,
piggietails
,
sf_drama
,
supernatural
,
teddybears

Subscriptions (11):
computer_help
,
dreamy_designs
,
dw_maintenance
,
dw_news
,
envied
,
graphic_tutorials
,
graphixbylisa
,
piggietails
,
sf_drama
,
snob
,
teddybears

Administrator Of (1):

Feeds
[View Entries]

Subscriptions (0)

Linking
To link to this user, copy this code:
On Dreamwidth:
Elsewhere: